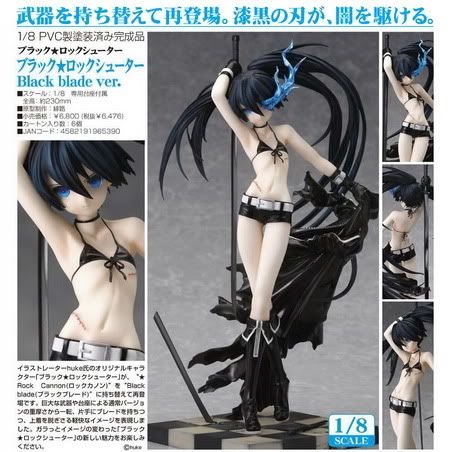 Back again with a new weapon – a blade as black as the darkest night.
The popular character illustrated by
huke
is back again, but this time she is wielding a '
Black Blade
' instead of the previous '
Rock Cannon
'.
In even more contrast to the original figure, this new version has a much lighter feel to it – as she can be seen removing her jacket with her free hand, as she stands on a much more compact base compared to before.
Enjoy a whole new side of
BLACK ROCK SHOOTER.
Description from Manufacturer

Black Rock Shooter, with the blue flame in her eyes and her Black Rock Canon are back. The athletic girl whips off her heavy leather jacket in this version to show off her abs and her battle scars.

Althoug petit and very slender, she is not one to be messed with.

Featuring the same level of details and the same base, this figure is just as stylish as the last Black Rock Shooter, even though quite a bit sexier.