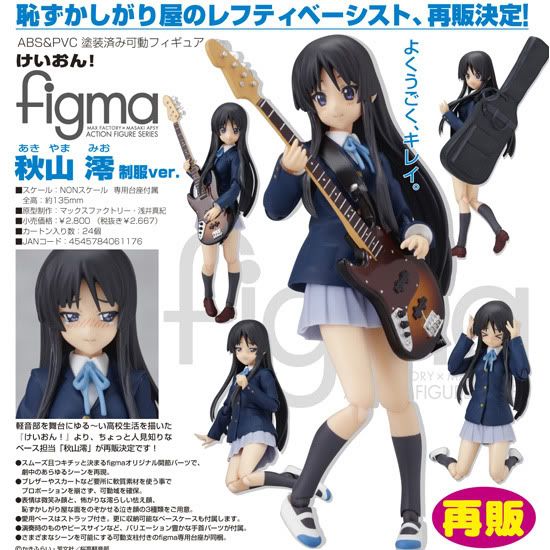 Lyricist and bassist, cool, mature but is a
Tsundere,
this unique blend of a girl,
Akiyama Mio
is here in her full action glory. You can relive all your favourite scenes with this
figure.
Assemble and reassemble her face parts. True to her character, the package contains her confident smile, her slightly tearing face and an all-out wail. There are four pairs of hand parts, two pairs of shoes and her bass case.
Put her beside
Yui
and have them perform an all strings concert.

figma K-On! Mio Akiyama School Uniform ver.(June 2010 Shipment) MAX Factory
From the anime series K-ON comes the long-awaited figma of the shy bassist from Sakura High's music club, Mio Akiyama!

Using the smooth yet poseable joints of figma, you can act out various scenes.
A flexible plastic is used for areas such as the blazer and skirt, allowing proportions to be kept, without compromising posability.
Three expressions are included: a smiling face, a frightened face ideal for Mio, as well as embarrassed face just bordering on tears.
Her bass guitar is included along with a strap, and even a case so she can take it with her wherever she goes.
Various hand parts are included, such as the peace sign and poses from her performances.
A poseable figma stand is included; allowing you to put her in a number of poses.
Description from Manufacturer