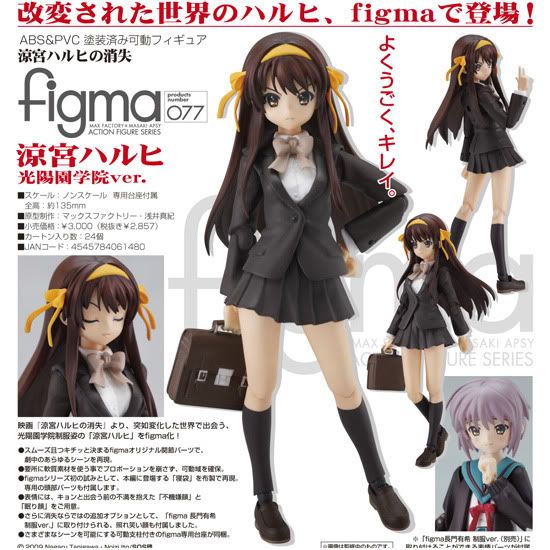 figma
The Disappearance of Haruhi Suzumiya Haruhi Suzumiya Kouyou Academy
ver. (
The Melancholy of Haruhi Suzumiya
)
MAX Factory
Her new uniform is great. But she is still lovely never change. In this version she see a real adult. If you are a fan, do not wait for her.
From the movie "
The Disappearance of Haruhi Suzumiya
" comes a figma of Haruhi wearing her
Kouyou Academy
uniform!

Using the smooth yet poseable joints of figma, you can act out a variety of different scenes.
A flexible plastic is used for certain areas, allowing figure proportions to be maintained without compromising posability.
As a first in the figma series, Haruhi comes with a figma-sized cloth sleeping bag based on the one in the film. Sleeping face also included!
Two expressions for Haruhi are included - a sleeping face, as well as the sullen face she had before she met Kyon.
An embarrassed, but smiling expression for use on the Nagato figma is also included - something you'll need to recreate even more scenes from the movie.
A poseable figma stand is included, which allows various poses to be taken.
Description from Manufacturer