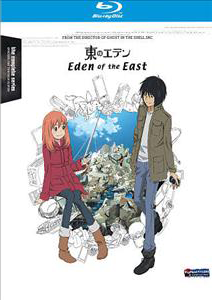 Eden of the East (東のエデン): The Complete Series Akira Takizawa
wakes up naked outside the White House with no memories. He's got a gun in one hand, a cell phone in the other, and doesn't know if he's a good guy or one of the worst. He doesn't remember the phone gives him instant access to ten billion yen and a woman who can make his most outlandish requests a reality. He doesn't recall his connection to the ongoing missile attacks terrorizing the Japanese people. Alternatively, the part he played in the sudden
disappearance of 20,000
shut-ins. He doesn't even remember he's supposed to save Japan and will be murdered if he fails. Whatever it is he's tangled up in,
Takizawa's
definitely in deep – and that's not even scratching the surface.
On November 22, 2010, ten missiles strike Japan. This terrorist act does not result in any casualties, however. Three months later, Saki Morimi is in the United States of America on her graduation trip. Nevertheless, just when she stands in front of the White House, she finds herself in trouble, and only the unexpected intervention of one of her fellow countrymen saves her.

However, this man is a complete mystery - not only is he an amnesiac, but he is stark naked save for the gun in one hand and the mobile phone, charged with billions of yen in digital cash in the other.