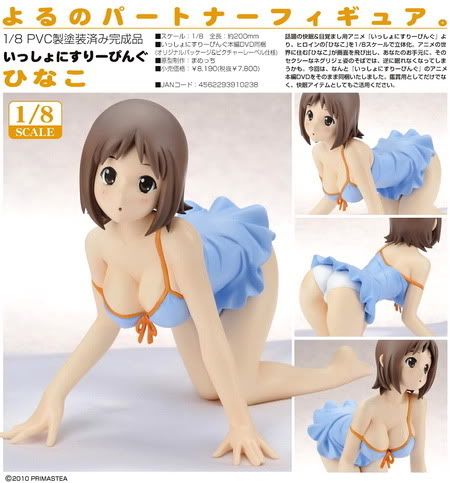 Issyo ni Sleeping Hinako
Complete
Figure
w/ DVD
Embrace Japan
Sculpted by
Mamecchi
She was wearing light blue pajamas are very cute. His brown hair and looks more vibrant. She is a cheerful little girl and looked optimistic at all times. Do not miss her.
From "Isshoni Sleeping", the popular
anime
that helps get you to sleep and helps you to wake up in the morning, comes a
1/8th scale PVC figure
of the main character,
Hinako
. She has jumped out of the anime world and into the figure world for you to take home!

There is one little problem though… she is wearing the sexy negligee from the anime… which is more likely to keep you awake than get you to sleep!
As an added bonus, the entire "Isshoni Sleeping" DVD will be included with the figure! With the figure and the DVD, you're bound to have that peaceful sleep you need!
Description from Manufacturer