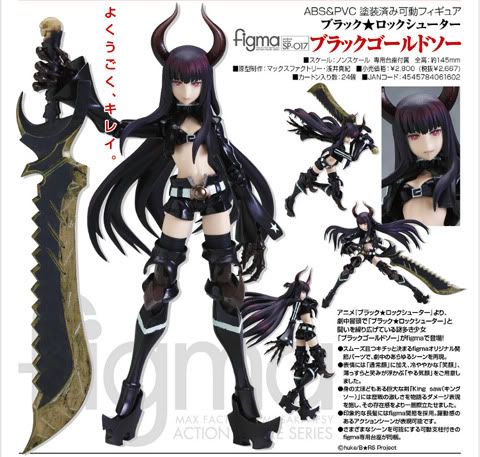 figma
Black Gold Saw
(from
Black Rock Shooter
) MAX Factory
She very small, only one other is an enemy at that point fatal, is known about this character. True to her name, this corner is a woman holding a huge golden saws - Saw and the king, and it is to exercise her hands as if it weighs nothing can be. Since the joint can jump and slash combat in a way to draw the most realistic, and her hair.
Shows, poker face, her smile and her cold expression of her attack, she has come to be absorbed in the heat of the great battle. Her wound has seen the struggle is well-documented that she made.
Black Rock Shooter
and put her dead master, and please refer to the people could come out alive girl war.

From the anime "Black Rock Shooter" comes a figma of the mysterious ''Black Gold Saw', who was seen fighting with Black Rock Shooter at the very beginning of the movie.

Using the smooth yet poseable joints of figma, you can act out a variety of different scenes.
Along with her standard face, she also comes with a bone-chilling smile and a serious face ready to cause some trouble.
Her weapon, "King Saw", is the same length of her entire body and is included covered in scratches and dents from past battles.
Her impressive long hair also contains figma joints, allowing you to recreate dynamic action scenes!
A poseable figma stand is included, which allows various poses to be taken.