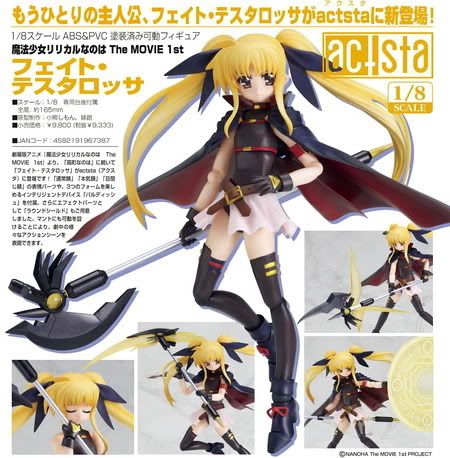 actsta Fate Testarossa
Complete Figure
Lyrical Nanoha The MOVIE 1st
Good Smile Company
She called "Fate" She is a blonde haired girl. Shaped like a beautiful angel. The clothes she was wearing the clothes she likes most. The clothes she was wearing to fight the enemy. When viewed overall. I conclude that her very cute.
From the anime movie "
Magical Girl Lyrical Nanoha The MOVIE 1st
" comes an actsta figure of Fate Testarossa, ready to get together with the Nanoha actsta and recreate the thrilling fight scenes from the movie.

Fate comes with a total of three exchangeable expressions: A standard face, a serious face, and a face with closed eyes. She also comes with three different forms of her intelligent device, Bardiche, and just like Nanoha she also comes with effect parts to recreate her "Round Shield", leaving you with countless ways to recreate your favorite scenes from the movie - even the most dynamic action scenes you can think of!
Description from Manufacturer