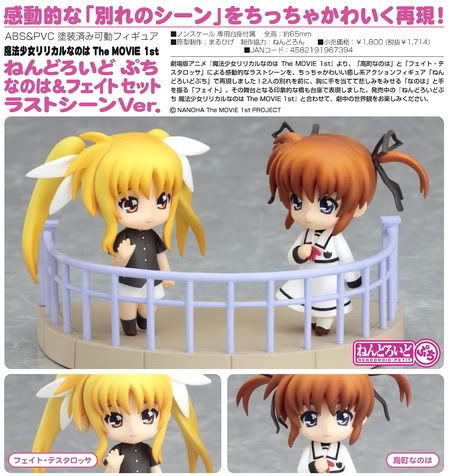 Nendoroid Petit Nanoha and Fate
Set Last Scene Ver.
(Lyrical Nanoha The MOVIE 1st)
Good Smile Company
They're both set these two girls are together. Called a lovely square that has it all. Gold and orange eyes of their hearts and see the real temptation for us. They like to invite you to visit nearby.
From the anime movie "Magical Girl Lyrical Nanoha The MOVIE 1st" comes a set of two Nendoroid Petite figures of
Nanoha Takamachi and Fate Testarossa,
that allow you to recreate the touching final scene from the movie.

Nanoha has her hand placed over her heart as she sadly accepts that Fate is leaving, and Fate herself is waving goodbye as she begins to step backwards. Included with the set is a stand the recreates the bridge where the two girls bid each other farewell.

Be sure to collect the other Nanoha Nendoroids in the Nendoroid Petite Magical Girl Lyrical Nanoha The MOVIE 1st set, so that these two don't get lonely by themselves!
Description from Manufacturer