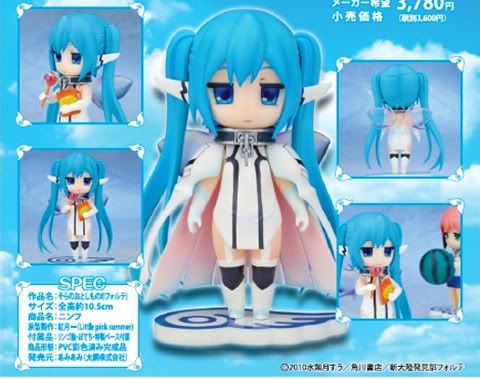 Sorano Otoshimono
f(forte)
Nymph
Complete Figure
AmiAmi
Sleepy eyes and the angels, nymphs are waiting for you to hit the shelves of your collection is Angeloid. One of the most notable figure of color is a wing of the ether looks plump bubble. Nymphs, like so please take time to watch them once in her battle with harpies, they had lost.
The package, when you see her fight scenes are her cloak comes with it can be wrapped around the shoulders. If you see her relax at home you can delete it or you.
Angeloid,
you have a snack ready for her TV viewing time she is very fond of daytime drama. Put a lollipop or candy apple of her little fist, put another bag of potato chips.

From the second season of Sora no Otoshimono anime comes a figure of Nymph, type beta electronic war Angeroid.
Comes with apple candy given by Tomoki and her favorite potato chips that she snacks on while watching TV soap opera.
Description from Manufacturer