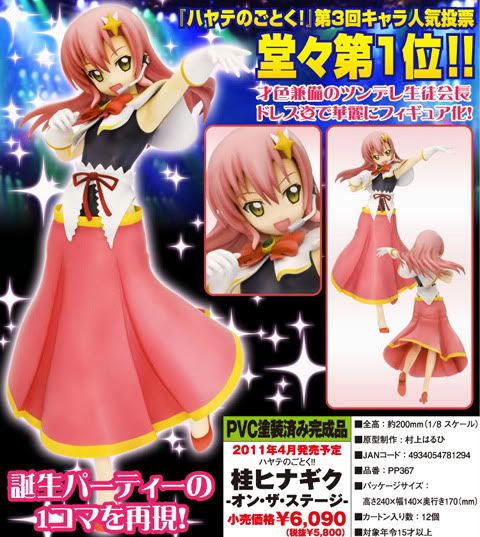 Hayate no Gotoku!
(
Hayate the Combat Butler
)!
Hinagiku Katsura
-On the Stage- Complete
Figure Kotobukiya Sculpted by Haruhi Murakami
, Official
Hayate the Combat Butler
Figure, Height: approx. 200mm
Assist for cute tsundere girls is yet departure influential. Katsura Hinagiku, the learner body chairman is voted top point in the Combat Butler Hayate series and to praise this, figure maker Murakami Haruhi chose a interesting act from the manga and bring it to the 3D world for entire her fans.
Excellent and multi-talented, Hinagiku is going to vocalize a song for you. Her on-stage attire imitate anything from charming girl shows. It skims across her gracile form and the light colors prise her eyes, skin and hair.

Adapted twice as a TV Anime and continuing on as one of the most popular series in Weekly Shonen Sunday, Hayate no Gotoku! shows no signs of stopping! And now the ultra-popular Hinagiku Katsura is coming to your collection as a 1/8 scale figure!

This figure draws its inspiration from episode 12 of the second anime series (Chapter 95 of the manga) and features Hinagiku decked out in her stage ensemble as she performs an enthusiastic performance at a birthday party!
Description from Manufacturer