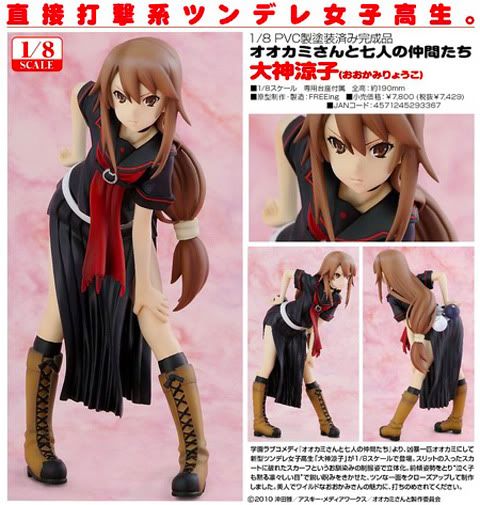 Okamisan and her Seven
Companions 1/8
Ryouko Ookami
Complete Figure FREEing, Official
Okamisan and her Seven Companions Figure
, Height: approx. 190mm, Limited availability
When the wolf frowns, crying silently children themselves immediately. Okami Ryoko, the resident tsundere Okamisan and his seven companions turn on the power of his side tsun.
Leaning forward with one hand on her life, she glares at you and invites you to go against him. The girl is wearing a traditional Yankee, the ultra-long dress and tore off the tie is proof of his crime.
Even though she is dressed in layers of fabric, there is nothing conservative about her dress, the long slit skirt revealed the length and shape of her legs. But know that this is not for eye candy, it's for the good of the action easy. He could kick to his opponent at any time.
Tsun REED side is softer side, enjoy this spicy version of Ryoko home.
From the romantic comedy series "
Ookami-san to Shichinin no Nakamatachi
" comes a 1/8th scale figure of the ferocious wolf, Ryouko Ookami.

She has been sculpted wearing her school uniform including the personal customizations she made – a torn scarf and slit skirt. She is posed bending forward as she glares down with her imposing eyes… the eyes that are said to be so serious that they could stop a child from crying. It really shows off Ryouko's imposing side.

Enjoy the wild charms of the beautiful Ryouko!
Description from Manufacturer