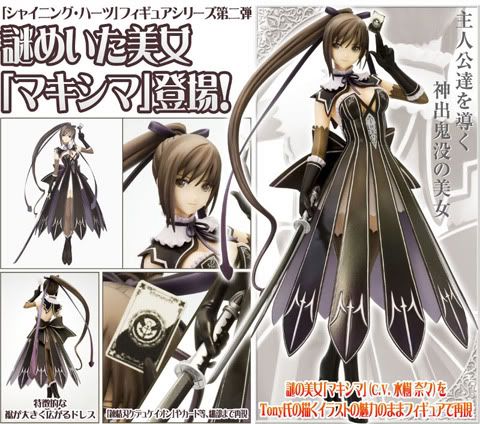 Shining Hearts Maxima
Complete Figure
Kotobukiya
, Official
Shining World Strangers Figure
, Height: approx. 215mm
Maxima is shrouded in mystery, this girl takes us into patterns and gives you advice, but does not reveal anything about himself. Take home this figure to know better.
The black of her dress is sprinkled with a layer of pastel. The perfect arch of his ponytail and the flare of the skirt to bring out the gentle grace of the girl. Even though the skirt is long enough, you can still see the slender shape of her legs between the strips.
Keijiro Togita transparent dyes used to paint the filmy fabric of her gloves and socks, and used a mixture of silver and gray to create the metal frame of the blade. Even the models are drawn on his card faithfully according to the design of the characters in the game.


From SEGA's RPG Shining Hearts, comes the figure of Maxima Enfield,

Sculpted faithfully to the original illustration by Tony, the figure has long arching ponytail and fluttering dress, with a tranquil expression on her face.
Description from Manufacturer