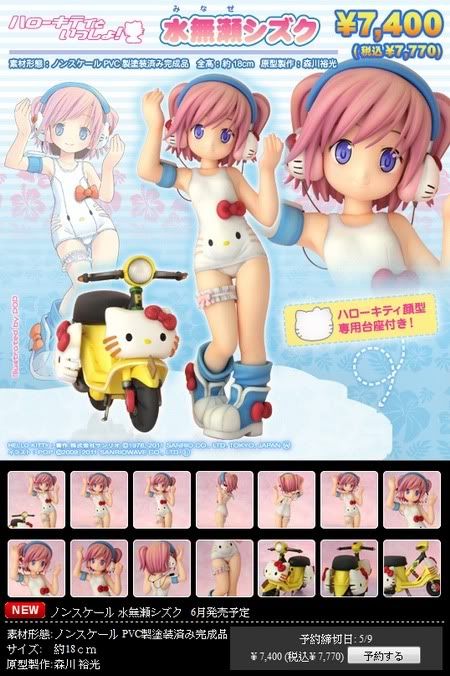 Together with Hello Kitty!
Shizuku Minase
Complete Figure
Griffon Enterprises
, Official
Hello Kitty
to Issho! Figure, Height: approx. 180mm Sculpted by
Hiromitsu Morikawa
Minase Shizuku
-chan is the moe cartoonist Pop's fresh girl. Happy smile, Big eyed and Pink hair, she's a girl who proper Hello Kitty to a patent. The white and blue are texture summer colors, bond everything with the Hello Kitty luck piece on her headphones and swimsuit, and here is an expert picture of cute and kawaii.

Shizuka Minase, from the Together with Hello Kitty! series, is finally here as a PVC figure! Based on an illustration by the ultra-popular POP this super-fan of Hello Kitty is ready to enter your collection! Both her cute headphones and swimsuit have been detailed with ultra-cute Hello Kitty accents and she even includes a special Hello Kitty base! Don't miss out on this great new figure perfect for Hello Kitty fans, POP fans or just fans of great figures!
Description from Manufacturer