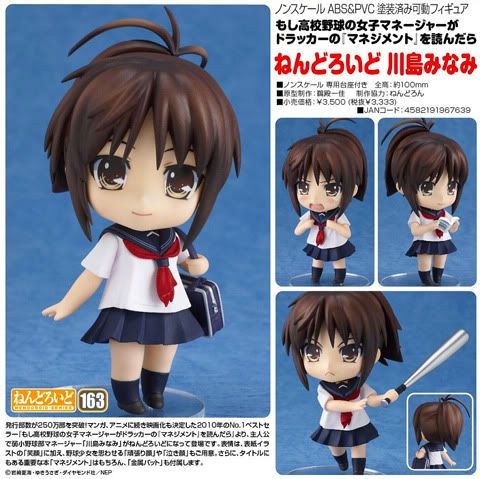 Nendoroid
Minami Kawashima "Moshidora"
Good Smile Company, Official Nendoroid Figure, Height: approx. 100mm
Nendoroid Minami Kawashima ねんどろいど かわしまみなみ
from
Moshi Koukou Yakyuu no Joshi Manager ga Drucker no "Management" o Yondara もし高校野球の女子マネージャーがドラッカーの『マネジメント』を読んだら
Kawashima Minami has finished Drucker's management manual and is adapting it into use. She is that the lady behind the fastest rising baseball team, and a lady each collector wants in their show shelf. Like all middle faculty women, she likes to laugh and joke with friends, however when her team is in peril, she is going to show her determined face and even cry for her teammates.
---
The package comes together with her reference book, let her look around it when she must check facts, she has her faculty bag and her baseball bat, and is ready to visualize her team through another match.


Over 250 thousand copies of the original novel have been sold, making it the No.1 bestseller of 2010 which has quickly become both an anime and manga series as well - the popular "Moshi Koukou Yakyuu no Joshi Manager ga Drucker no 'Management' o Yondara" now joins the Nendoroid world as well, with a Nendoroid of the main character and manager of the Hodokubo High School Baseball team - Minami Kawashima!

She comes with three expressions - a smiling face to recreate the scene on the front cover of the novel, a determined face to show her constant determination, and finally a crying face for the times things don't go well. The book written by Drucker, 'Management' is also included along with a baseball bat - all the extras you need to recreate the feeling from the series!
Description from Manufacturer