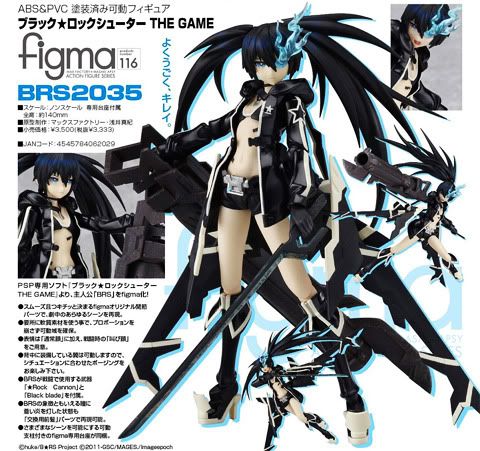 figma
BRS2035
of "
Black Rock Shooter THE GAME
" MAX Factory, Official Black Rock Shooter Figure, Height: approx. 140mm
figma
BRS2035
(ふぃぐま BRS2035) from
Black Rock Shooter: THE GAME ブラック★ロックシューター THE GAME
Here comes mankind's last hope. Celebrate the discharge of the Black Rock Shooter game on the Sony PSP with a Figma figure. Asai Maki from Max Factory crafts Black Rock Shooter's sharp edges and flames consistent with her new image within the game. The boots and her new outfit are a classy arrangement of white against black. The warrior comes together with her poker face and her battle cry. Place the Rock Cannon and therefore, the Black Blade into her hands when she has to slay her enemies. Her left eye blazes up within the heat of the battle, place that wisp of crystalline blue on her for a lot of power.
---
BRS, the main character from the PSP Game, 'Black Rock Shooter: THE GAME' is joining the figma family!

Using the smooth yet poseable joints of figma, you can act out a variety of different scenes.
A flexible plastic is used for specific areas, which allows proportions to be kept without compromising posability.
She comes with a standard face, as well as a shouting face for combat scenes.
The wings on her back are fully posable, allowing you to pose them to match with various situations.
BRS's weapons, the 'Rock Cannon' and the 'Black Blade' are both included.
Replaceable fringe parts allow you to place the blue flame over her eye.
A poseable figma stand is included, which allows various poses to be taken.
Description from Manufacturer