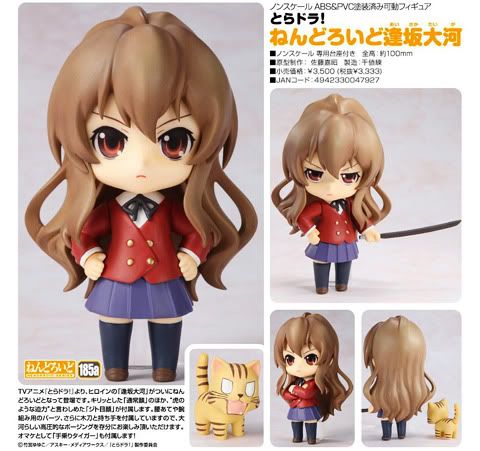 Nendoroid
- ToraDora!
Taiga Aisaka
ASCII Media Works, Official
Toradora!
Figure, Height: approx. 100mm
Nendoroid Taiga Aisaka ねんどろいど 逢坂大河 (ねんどろいど あいさかたいが) of Toradora! とらドラ! Beware of the fangs. The classic tsundere Taiga has finally become a Palm high Tiger. She places her hands to her waist has she stares boldly at whoever holds her in their grasp. And if that scowl isn't powerful enough, make preparations for the damaging glare. She comes along with her picket sword and is unafraid to deal damages with it. Fold her arms across her chest to show the pride that solely true tsundere ladies will. The little tiger that pops up to produce the comic relieve is traveling with Taiga. Pop the each of them into your show case and let her beat some sense into the figures who dare to tease her regarding her size.
---
From the anime Toradora! comes a Nendoroid of the main heroine from the series, Taiga Aisaka!

She comes with her a standard expression, as well as a much angrier looking frowning expression. She also comes with a variety of arm and hand parts, such as arms to put her hand on her hip, folded arms, and even a hand for her to hold her wooden sword - making it easy to pose Taiga in all her most common poses! She also comes with a little palm-top tiger!
Description from Manufacturer