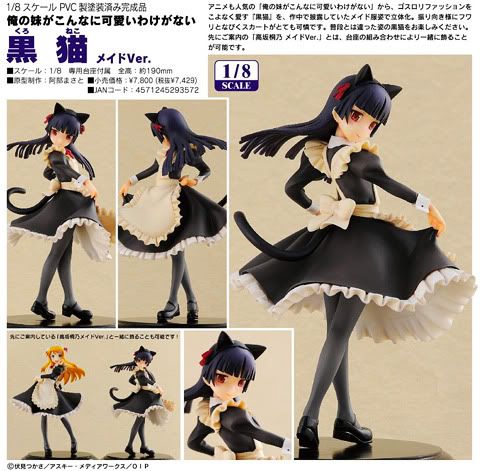 Oreno Imouto ga Konna ni Kawaii Wake ga Nai
-
Kuroneko Maid Ver.
Complete Figure FREEing, Official
Ore No Imoto Ga Konnani Kawaii Wake Ga Nai Figure
, Height: Approx. 190mm
Kuroneko : Maid Ver. 黒猫 メイドVer. (くろねこ めいどVer.) of Ore no Imouto ga Konnani Kawaii Wake ga Nai 俺の妹がこんなに可愛いわけがない, She is so cute and cuddly. Her maid uniform looks very nice, and is the best on my eyes. She also added cuteness with cat ears and cat tail, these help her become the ultimate cute girl.
---
From the popular anime and light novel series, 'Ore no Imouto ga Konnani Kawaii Wake ga Nai' comes a figure of the goth-loli fashion lover, 'Kuroneko' wearing her maid outfit from the series!

She is posed twirling around with with her skirt fluttering around her in a very cute pose. It's a different side of Kuroneko for fans to enjoy, and is designed to be displayed with the previously announced Kirino Kousaka: Maid Ver.!
Description from Manufacturer