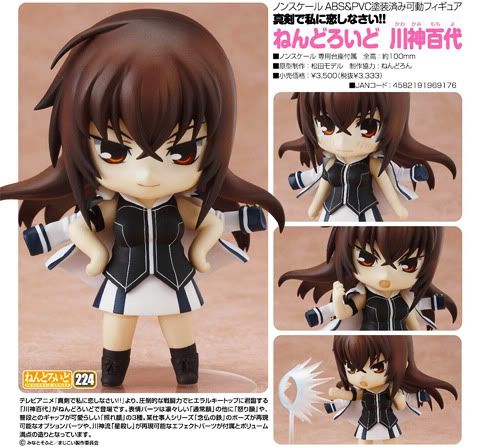 Nendoroid
Momoyo Kawakami
ねんどろいど 川神百代 (ねんどろいど かわかみももよ) of
Maji de Watashi ni Koishinasai!
真剣で私に恋しなさい!!, Height: approx. 100mm, Manufactured by
Good Smile Company
.
She is the most brutal woman. She can knock a thousand men with a single punch, but she looks cute and very attractive for some people. She may fall in love with someone right now, that person could be you. Even though she is extremely brutal, she is also extremely cute.
---
From the anime seires, 'Maji de Watashi ni Koishinasai!' comes a Nendoroid of the powerful fighter Momoyo Kawakami, the oldest member of the Kawakami family.

She comes with three expressions, including a standard confident looking expression, an upset looking expression and finally an adorable embarrassed expression. There are also extra parts that allow you to pose her in the 'Buddhist Iron' pose, as well as some extra effect parts to pose her preforming her 'Star Killer' move. A variety of extra parts for fans to enjoy!
Description from Manufacturer