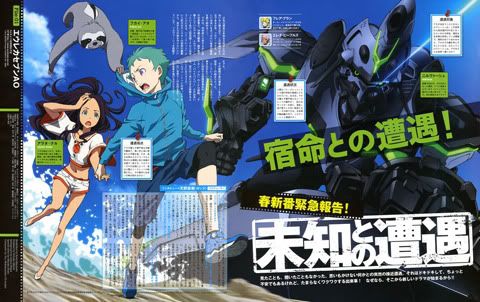 Eureka Seven: AO
(エウレカセブンAO) took place on Okinawa Island (沖縄本島), which separated from Iwado archipelago that has been developed and is growing under the control of independent government.
Ao Fukai (フカイ・アオ)
13-year-old boy who lost his father is preparing to study in junior high school. He lived with the elderly surgeon named Toshio Fukai (フカイ・トシオ) on the island, and his mother mysteriously disappeared.
Naru Arata (アラタ・ナル)
13-year-old girl is a friend of Ao since childhood. She lived with her father, sister and grandmother on Okinawa island. Naru has got a power called "
Yuta (ユタ)
" from the accident since childhood.
When a mysterious organization known as "Secret" appeared and started attacking Scub Coral on Okinawa Island, with the strong desire of Ao, who want to protect his beloved land. He decided to drive the Japanese Navy's FP combat robot called "
Nirvash
"


Eureka Seven: AO is returning to work together again for the team who created Eureka Seven, such as Director, Designer of the robot model, Stylist, Visual effect team, and even Director of Photography. Kenichi Yoshida (吉田 健一) is Key Character Designer, and Shoji KAWAMORI (河森 正治) is Nirvash Designer.