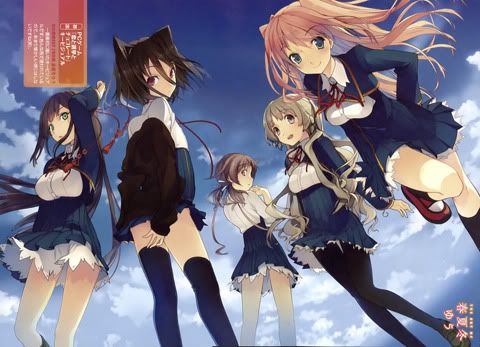 Love, Election & Chocolate
or
Koi to Senkyo to Chocolate (恋と選挙とチョコレート)
is one of the most popular novels in 2010. The novel has a very high order, and was sold out within a few minutes after it was released.


Chisato Sumiyoshi (住吉 千里) is a second-year preparatory school girl. She was identified by Nozomi, a former head of the food research club to be served as the club leader. She was an excellent student and a great sport. She is also in good shape is known as a complete person. She was committed to enter university before she turned her attention on the love.

Michiru Morishita (森下 未散) is a first-year student. She is a new member of the club before the election. She has a habit to say the least, and often communicate with one another as little as necessary. In addition, she rarely expressed the feeling, resulting in many people cannot understand what she was doing. Although she does not like to hear other people say, she obeyed all matters. She is also witty, but not good at sports.

Mifuyu Kiba (木場 美冬) is a second-year student. Since she was admitted to the hospital long term, so she had to repeat a year, and become a weak point in her life. When she met Chisato and became a close friend, she recognizes and understands the problems of life, and she was finally able to solve minority problems. Because she is Chisato close friend, so let her close with Yuki, and often talk with a smile. Additionally, the trio goes to school together regularly.

Satsuki Shinonome (東雲 皐月) is a second-year student. She is the Chief Financial under the Student Council's Finance Department. When her first year, she has worked extensively in the finance department, so she has been elected as the Chief Financial very easily. She can decide on the issues properly, and she has a good leadership. Additionally, she is very beautiful and attractive to men approached, but always refused to be relationship. She is also a candidate for elected student president in the next term.

Isara Aomi (青海 衣更) is a first-year student. And she was a student quota in economics. Her household chores are very good because she had to work instead of her mother. She is a favorite of friends in school, but because of a chore, she had to work a lot, and made her rarely close with everyone.