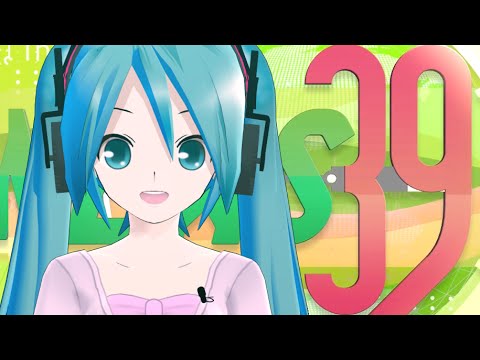 It's extremely rare! that you can see Miku, a popular
Vocaloid idol
served as a female announcer or newscaster. This music video named "
News 39 (ニュース39)
" created by Mitchie M, a Japanese Vocaloid music producer.
Those 3pm/9pm news program broadcasted by MHK station. It's just a fiction! by using MMD/MikuMikuDance software build Miku's various animation, as you can see in the video (don't forget to turn on the Subtitles/CC if you don't understand Japanese).
My feelings, Overall, I give this song 10/10 because it's very difficult to create or find a music work like this Vocaloid style, especially if you are Miku fan. Yeah! There's a novelty of Vocaloid music. She started singing like a little girl rapping then turn into a pop-dance melody. I also liked the video illustrations (drawn by Hachipuyo) very striking and beautiful. Moreover, I noticed Miku's pink outfit It's so cute, and makes her look really mature. All perfectly good. Everything is awesome!
3 三
in Japanese is San or Mi (in some cases).
9 九
in Japanese is Kyuu or Ku.
39
= Mi-Ku
That's why she is on duty at 3pm and 9pm only.
The original video is in Nico Nico Douga, the hottest Japan video website: http://www.nicovideo.jp/watch/sm26167108
Mitchie M official site: http://mitchie-m.com/